Asbestos Abatement
WHERE CAN ASBESTOS BE COMMONLY FOUND?
Once thought to be the miracle fiber, asbestos was used for everything from fire and sound proofing, to insulating your home. It was commonly used in siding and roofing products, acoustical ceilings, heating and air conditioning ducts, hot water storage tanks, hot/steam pipe insulation, vent piping, stucco and plaster or sheetrock. We now know that under certain circumstances exposure to asbestos can cause cancer and other very serious respiratory diseases and health conditions.
ARE MY FAMILY AND I IN ANY DANGER?
Alone, asbestos can be considered quite harmless. The potential problem begins when asbestos ages or is disrupted, such as during repairs, restoration or renovation projects. If the situation isn't handled properly, asbestos can endanger your health and cost you money to mitigate.


WHAT ARE MY LEGAL OBLIGATIONS?
There is no law that says that you must have asbestos materials removed from your home. However, if an asbestos containing material is removed, the law does require that the abatement work be performed by a properly licensed asbestos abatement contractor, as it is considered a hazardous material. Due to stringent government regulations, only a qualified, licensed asbestos abatement contractor, such as P.W. Stephens Environmental, can protect you from the potential health and safety risks resulting from non-compliant removal practices.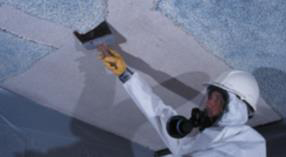 Don't risk your health and safety by taking on asbestos removal by yourself or through unqualified contractors. Proper handling of hazardous materials requires knowledge, talent, experience and resources. Let our trusted team of industry experts take the worry out of the abatement process by quickly and efficiently handling your asbestos abatement needs with precision and affordability.
To request a free, no-obligation consultation, please contact us at 800-750-7733, or at info@pwsei.com.
California Contractors License #922790, DTSC #5886, Cal OSHA #966